IARC
Between 22 and 24 June, the International Aphasia Rehabilitation Conference (IARC) was held in Philadelphia. We are pleased that PeerPAL could also be presented during this congress.
Every two years, the IARC brings together researchers and clinical specialists in neurological speech and language therapy to share the international state of the art in aphasia research.
Being able to present PeerPAL in this setting and discuss the results so far with the international professional community has filled us with pride and joy.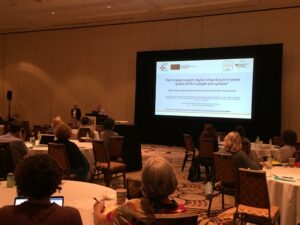 Project meeting in Mainz
For the first time, the entire PeerPAL team was able to come together for an analogue project meeting in Mainz. Due to the Covid 19 pandemic, cooperation has so far been exclusively digital. We were very happy to be able to exchange ideas in person now! In addition to the PeerPAL staff, the colleagues from the BaSeTaLK project also took part in this meeting. BaSeTaLK is also a joint project headed by Prof. Lauer and Prof. Corsten. In BaSeTaLK, a tablet-supported measure for biography work in care and senior citizen facilities was developed and evaluated. The aim of the project is to increase the quality of life and participation of older people. Together we exchanged views on challenges in the research process and discussed possible solutions.
Further information on the BaSeTaLK project can be found here: www.basetalk.de